Chapter 3 - StreetTalk Naming Service
As you proceed with planning your network, you must understand the concept of naming, which is an important part of Banyan networking. Within VINES, every user and every resource have a name. Resources include services, lists, and servers.

A special service, called StreetTalk, lets you give names to users, servers, and services, then keeps track of all the names in the network. You do not have to maintain or distribute complicated network addresses for users or other resources. You simply give them a name and StreetTalk always knows where they are.

As you read through this chapter and those that follow, think about how a user in your company might want or need to use the resources offered in a network environment. Pay special attention to where you locate resources on the network and the names that you assign to them.
StreetTalk is a special Banyan service that lets you assign unique names and attributes to all users and resources in the network. Attributes are properties of the resource that you can use to describe and categorize it. A later section contains examples of attributes.

Every Banyan server has its own StreetTalk naming service identified as ST@servername@Servers, where servername is the name of the server. The organization Servers is automatically created. Server names are used to create groups within the Servers organization so a network composed of servers USCHI001 and USCH002 automatically defines groups called USCHI001@Servers and USCHI002@Servers.
Every user and every resource (for example, a file service) has a StreetTalk name. See Figure 3-1.
Figure 3-1. Names and Resources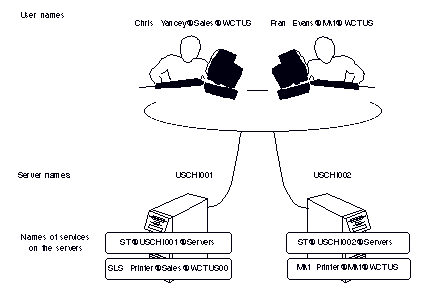 You specify the name for a resource (for example, a file service or a print service) when you add that resource to VINES. You then use the name to manage the resource. Users specify the name of a resource to access it. VINES uses the names to find users or other resources, wherever they are.
Constructing Names
Names are constructed by conceiving every user or resource as an item that belongs to a group, which, in turn, belongs to an organization. See Figure 3-2.
Figure 3-2. Items, Groups, and Organizations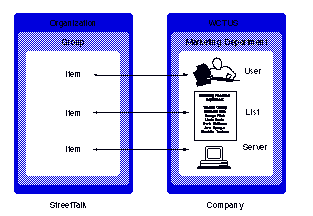 Items include users (including their nicknames), services, servers, and lists. Each item belongs to a larger unit called a group. Any number of items in any class can belong to the same group. A group usually includes several users, services, and lists. For example, a marketing department named mkt might include users, a file service, and a print service. All the items in a group have something in common - in the case of the preceding example, their association with the marketing department.

Each group belongs to an organization, the highest level of names on the network. Organizations consist of groups that are related. In many cases, an organizational name will correspond to the name of a business. Large companies can use organizational names to identify divisions.

Every StreetTalk name that you create should clearly identify the network resource to which it refers. By creating a StreetTalk name carefully, you help users to recognize the particular item they want from among the many resources available on the network.
Sample Names
Table 3-1 lists some of the item, group, and organization names in the WCT corporation:
Table 3-1. Sample StreetTalk Names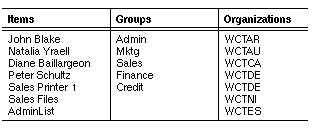 Item names includes user names as well as the names of print and file services. Services are VINES programs. Service names are not associated with a physical device (for example, a disk drive or a printer), but with the VINES program that manages a device. Group names correspond to departments, and organizations correspond to overseas subsidiary offices (for example, WCTAR is the office in Argentina).

More examples and VINES naming rules are presented later in the chapter.
How StreetTalk Distributes Information
This section explains how StreetTalk distributes names.
StreetTalk Database
Every StreetTalk service maintains a database on the server on which it runs. In a single server network, the StreetTalk directory is synonymous with this database.

In a multi-server network, the directory is distributed among servers and there is no single point of failure. The network does not have a centralized naming server, which, if not available, could limit the network's ability to function. In a Banyan network, names are accessible to the entire network even if a server fails. You can relocate or replace resources without directly impacting users.

Each database contains detailed information about the items in each group on that server and an internal table that records the groups that other servers maintain. Access to resources is always consistent because detailed, item-level information is updated and shared among servers. (Organizations, in contrast to groups, exist only logically as a way of associating groups together. Individual servers do not maintain organizations.)
Group Tables
Every server has an internal group table that maps group names to server names. When one StreetTalk service needs to query information about a group that it does not maintain, it can quickly connect to the appropriate StreetTalk service based on its internal group table. StreetTalk services cooperate to provide comprehensive directory management to the network. For example, if a VINES program running on server Maple requests information maintained on server Birch, the StreetTalk service on Maple (ST@Maple@servers) immediately issues a query to ST@Birch@Servers.
Distributing Information
In a multi-server network, the StreetTalk service periodically distributes information contained in the StreetTalk directory. Servers update one another whenever a new server is added or a group is added or deleted.

When you add a group, you choose a server to maintain that group. The server then notifies other servers that it is responsible for that group. The StreetTalk directory is also updated automatically at set intervals. If you shut down the server for maintenance, only the resources in the groups that the server maintains are affected.

StreetTalk's distribution of information is transparent to network users. Their view of StreetTalk is the same in both single-server and multi-server networks.
Example Three Groups Maintained on Two Servers
The example consists of two servers and three groups. Server A maintains information on Group 1 and Group 2, but knows that Server B has information on Group 3. Server B maintains information on Group 3, but knows that Server A has information on Group 1 and Group 2. If a new group is added to a server, the database of the other server is updated.

Figure 3-3 illustrates how names are distributed in a Banyan network.
Figure 3-3. Sample Names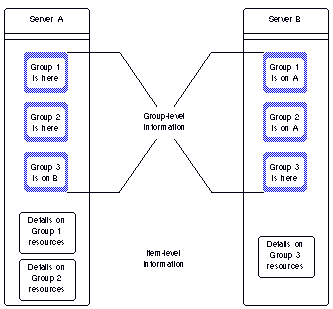 If your responsibilities include adding resources to the network, you must name those resources. The information in this section helps you create names that are easy to recognize and provide quick system response to users.

Administrators create and manage all StreetTalk names in VINES. Only administrators can add the names of new users to the StreetTalk database. By default, every StreetTalk group has at least one item, a list called "AdminList" that identifies group administrators. Group administrators manage both groups and the resources that belong to them. Your name must be on an AdminList before you can add names to StreetTalk.

The next sections tell you how to create StreetTalk names.
The following name is a valid StreetTalk name:
Figure 3-4. Valid StreetTalk Names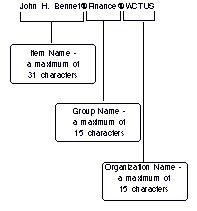 An at-sign (@) separates each part of the name from the next. At-signs can appear only as separators, never as a part of a name.

As another example,

is a valid name for a VINES service, in this case a file service.
Valid Characters in a StreetTalk Name
When creating a StreetTalk name for an item, group, or organization, you can use the following ASCII characters:
| | |
| --- | --- |
| | Standard 7-bit alphanumeric characters A through Z, a through z, and 0 through 9. |
| | 7-bit non-alphanumeric characters such as the period, comma, space, and dash. |
| | 8-bit characters that include accents, diacritical marks (for example, a circumflex), and other special characters for language-specific characters. These 8-bit characters are part of a character set known as the PC multinational character set. |
| | Any character that you enter from your keyboard can be stored and displayed on a workstation screen by VINES. Names for servers, groups (the second part of a StreetTalk name), and organizations (the third part of a StreetTalk name) cannot contain PC multinational 8-bit characters. |
The following examples are valid StreetTalk names:
Thomas M. Chang@MrktRes@WCTUS

Michèle@Sales@Corp
The è in Michèle (a nickname) is an 8-bit character.

StreetTalk stores standard and special alphanumeric characters but treats them as equivalent when it searches for them. For example, all variations on the letter "e" are the same when StreetTalk searches for a name that has an "e." StreetTalk distinguishes between E, e, É, é, è, and ë when stored but not when searched for. Thus the StreetTalk name Michèle@Ventes@WCTCA is equivalent to the StreetTalk name Michele@Ventes@WCTCA.

For your convenience, StreetTalk ignores the difference between upper-case and lower-case letters. Thomas M. Chang is the same as thomas m. chang. When StreetTalk displays an item name, it uses the case you specified when you added that item.

Keep these rules in mind when planning how to name users and network resources.
Administrators manage StreetTalk to control the naming of users and resources and the distribution of names to servers throughout the network. Choosing which StreetTalk groups to add and choosing what items they should contain are the most important ways that you use StreetTalk.

The sections that follow cover these aspects of planning for StreetTalk:
| | |
| --- | --- |
| | Creating unique names |
| | Naming items (users and services) |
| | Naming groups |
| | Naming organizations |
Each section presents guidelines for designing a system that is responsive and easy to use.

It is important that you develop naming standards that apply to your entire organization.
For each user or network resource that you define, the combination of item, group, and organization names must be unique. The uniqueness ensures that no one can confuse one user or resource with any other. Each resource can be precisely identified by its name alone.

When you add an item, StreetTalk checks that the name you give it is unique. For example, StreetTalk lets you create only one organization with a given name, such as WCTUS. Similarly, it lets you can create only one group called Finance in the WCTUS organization and only one item named John H. Bennett in that group. Thus, only one John H. Bennett@Finance@WCTUS can be on the network.

For services, such as StreetTalk, that VINES creates automatically, the server name determines the uniqueness of these service names. The server's name becomes the second, or middle, position of the StreetTalk name of these services. Therefore, server names must be unique.

See Chapter 4 for information on naming servers.
User names and service names (discussed in the next section) are item names. An item name can be a maximum of 31 characters. It can include letters, numbers, spaces, and other punctuation.

Macintosh

A StreetTalk name (item-group-organization) for a Macintosh user cannot exceed 31 characters.
Guidelines
Create StreetTalk names that are unique. The easiest way to do this is to make each name unique at its own level:
| | |
| --- | --- |
| | Item names should be unique within groups. |
| | Group names should be unique within organizations. |
| | Organization names should be unique to networks or internetworks. |
StreetTalk allows much flexibility in creating item names. However, you should create names that are easy for users to remember and recognize. For example, for Thomas Chang, create the item name Tom Chang if the name is unique and that is how people normally refer to him. To assure uniqueness, use full names including the middle initials or middle names.

Use a consistent naming scheme, especially if you have a large network with hundreds of users. For example, to be consistent, use a middle initial for all users even though the initial is not required for uniqueness. Such consistency helps the StreetTalk Directory Assistance service (described in Chapter 8) sort names more easily. Before you enter names, you should understand the sorting capabilities and requirements of STDA.

If your network has mainframes and minicomputers, consider letting users have their StreetTalk item names as logon IDs for these systems.

It is not recommended that you use numbers, such as employee identification numbers, as the only user names since people are known by their names rather than by numbers.

Plan your naming scheme carefully. Changing a name is easy after you have entered one, but changing many names in a very large network can be time-consuming.

In addition to a full StreetTalk name, users can have nicknames.

Macintosh

Limitations of the Macintosh Chooser restrict the length of StreetTalk names and passwords for Macintosh users. Therefore, when creating StreetTalk names and passwords for Macintosh users, follow these rules:
| | |
| --- | --- |
| | StreetTalk names must total 31 characters or less (i.e., item, group, organization, and @ signs). |
| | Passwords must be 8 characters or less. |
| | If a user enters a StreetTalk name in the Chooser that is longer than 31 characters, that user will not be able to log in. |
If an existing StreetTalk user's name is longer than 31 characters, create a short nickname (31 characters or less) for that person to use when logging in to VINES from a Macintosh.
Nicknames
StreetTalk nicknames are names that provide brief aliases for complete names. A user can have one or more StreetTalk nicknames.

Suppose an item name on the network, such as a user's legal name, is long or has a complicated spelling, as in this example:
Jerry P. Shaughnessy
Logging in with the user's entire item name is inconvenient.

If you create a nickname for the user's StreetTalk name, that user can type in the following nickname at login time:
JerryS
Internally, StreetTalk automatically converts the nickname to the user's full name within the context of a default group and organization.

You can create nicknames for network services, too.

When you create nicknames, you should follow the same standard for all nicknames that you create. For example, use the first name and first letter of the last name as in the example above or use the first letter of first, middle, and last names. Whatever standard you choose, apply it consistently to all users.
General Nickname Rules
Nicknames can refer only to users, lists (described in a later section), services, and other nicknames. They cannot refer to groups, organizations, or servers.

An item can have more than one nickname.

You can add nicknames for a user when you add the user to the network or later.

If a nickname refers to a list, any operation performed on the nickname can affect all the items in the list.

You should avoid giving a nickname to a nickname. StreetTalk tries to restore each nickname to a full name. If a full name is deleted, but the nickname of the full name's nickname still exists, StreetTalk cannot restore that nickname to a full name.
User Name Worksheet
Figure 3-5 illustrates the User Name Worksheet that you can use to record the names of users on your network.

In this example, users' middle initials are entered as part of their StreetTalk names. Nicknames are first names followed by initials for last names.

Read Managing Users and StreetTalk before you fill out the worksheet.
Figure 3-5. User Name Worksheet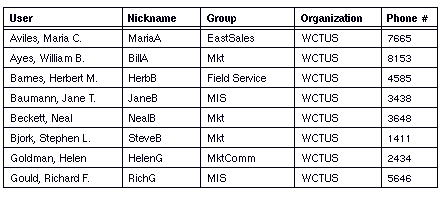 When a server is initialized you must enter a first group name and a name for the server. The group appears in the second position of the StreetTalk names of users and services. The group name can be up to 15 characters long. Do not use PC multinational 8-bit characters in the first group's name.

Note that the StreetTalk service maintains the groups and the StreetTalk information associated with them that you add to the service's server. This has implications for locating groups.

Your first task is to select a group name.
Creating Groups
You should assign users and services to groups in a way that is understandable and that corresponds to the way users work and interact. Users in groups should have something in common with one another.

Sometimes a group in your company may have to be divided into several StreetTalk groups. For example, if the Finance group has 100 employees, you can divide them into groups named Accounts-Pay, Accounts-Rec, and Compensation.

A StreetTalk group can contain members of several different departments within your corporate structure. For example, assume that a corporate Public Relations group has 10 users and the Marketing group has 20 users. The two corporate groups work together often, so you can combine them into one StreetTalk group of 30 users and call the group Marketing-PR.

Select group names that describe why items are grouped together.

Regardless of the group names that you select, consider making group names unique even if the groups are in different organizations. While unique names do not affect StreetTalk's search for the names, uniqueness does clarify the structure of your organization for users. For example, if your company has two engineering groups, naming both "engineering" may confuse users, even if the groups are in different organizations.

You can make a group name unique by including part of its departmental, or organizational name. For example, if your company has two personnel departments and two organizations, with branches in Canada and the United States, name one group HR-CANADA and the other HR-USA.

In a multi-national network, group names that are language-specific may make them unique. For example, the following StreetTalk users are in the finance department of the WCT corporation but work in different organizations:
Ricardo Flores@Finanzas@WCTES (Spain)
Diane Baillargeon@Finances@WCTCA (Canada)
Wilhelm Meier@Finanzen@WCTDE (Germany)
Performance Guidelines
The way you group items can affect network performance for both users and services because groups are maintained only on one server and services belong to groups. In addition, the StreetTalk service maintains the groups and the StreetTalk information associated with them that you add to the service's server.

Consider the following guidelines when you select the group to which a user should belong:
| | |
| --- | --- |
| | If possible, each user should belong to a group that is maintained on a server with a direct LAN connection to the user's workstation. This approach yields better performance, especially for logins. User profile information, processed at login, is kept on the server that maintains the user's group. |
| | In smaller networks with few users and groups, try to put users in the same group as the services they use most often. |
| | In larger networks with many groups that are very large, you may have to put related groups and users on more than one server and let more than one StreetTalk service manage them. |

As groups and organizations are added to the network in this way, the memory needs of each StreetTalk service in the network increases and can adversely affect the performance of a server. In general, a server can have a maximum of 25 groups, but that number varies depending on the services you run and how intensively users access the system.
If you cannot group all users and services together on the same server, try to create a scheme that makes your network both responsive and easy to use.

If memory usage becomes a concern, it is possible to monitor the amount of memory that StreetTalk requires for organization and group entries. For more information, see Monitoring and Optimizing Servers.
Create only the organizations that you need. A small company may need only one organization; larger companies may need more. Even for a larger company, one organization name that corresponds to the company name may be sufficient. A multinational corporation can use organization names to distinguish between its branches in different countries. See the example in the next section.

Avoid generic names like "headquarters," "administration," or "regional branch."

Use organization names that refer specifically to your company. This approach helps you maintain unique item and group names within them. You want unique names in the event that you connect your network to another network in the future.
Corporate Example
WCT has the VINES Option for Macintosh so StreetTalk names are limited to a maximum of 31 characters, including the two @ signs.

Each WCT office has its own StreetTalk organization name based on the company abbreviation (WCT) plus a two letter country code as defined by the International Standards Organization (ISO).

The company has the following organization names: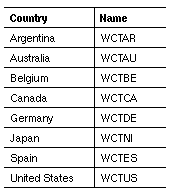 The total number of characters in item and group names is 24. Group names are abbreviated if necessary. For example, the StreetTalk name of the Payroll department in Sydney, Australia is Pay@WCTAU. Each office translates the group names into its own language and abbreviates them if necessary. All abbreviations uniquely identify each department.
As you make changes, keep a list of users and groups that is up to date if needed. Use the REPORT program to maintain a hard-copy listing of your naming system. This program generates ASCII files with information about StreetTalk groups and items on the network.
The following features help you manage the naming system and minimize the amount of time that you and your users have to spend typing StreetTalk names:
The sections that follow discuss the above features in detail.
Default Group and Organization
Any time someone types an item name by itself, StreetTalk automatically appends a group name to it. This group is called the default group.

When a user logs in to VINES, the default group is set to a group configured with the PCCONFIG program and stored in the PCCONFIG.DB file on the user's workstation. (Chapter 5 describes PCCONFIG.) For example, after a user logs in as Fernandez@Finanzas@WCTES, the default group for that VINES session becomes Finanzas@WTCES if the administrator configured Finanzas@WTCES as a default group. StreetTalk automatically appends that group to any item name the user specifies without a group name.

The default group lets users quickly access resources in their own group. Whenever a network resource is managed, the system displays the StreetTalk names that correspond to that type of resource. For example, the first set of names displayed for any item you are managing are those found in your default group.
Default Organization
Users' own organization is the default if only the item name and group name is specified. If a user logs in as Angie@Finance@WCTCA, the default organization for that VINES session is WCTCA. StreetTalk automatically appends that organization whenever you specify just the item and group name.
Default Group for Administrators
StreetTalk provides a special default group facility for administrators. When you add or manage a group, that group temporarily becomes your default group. This default remains in effect until you add or select another group or until you exit the VINES program and return to the workstation system prompt (for example, DOS or Windows NT). When you return to the system prompt, the default group reverts to the one in your login name.
StreetTalk Guaranteed Login (SGL) makes it possible for users to log in when their home server is not available by replicating (shadowing) their group on up to two additional servers. (A home server is the server that stores the user's group.) Use a Banyan management program to create and configure shadow groups. See Managing Users and StreetTalk for more information on shadow groups.
StreetTalk has a search function that makes it easy for you to find network items by name. You can display all the user names in any group or in any organization. For services, you can display all those of a certain type, such as file services or those maintained on a given server.

However, if you are unsure of how to find an item or spell its name, a special feature allows you to use StreetTalk pattern-matching. The next section explains how patterns work.

The STDA service also lets you search for the names of users, lists, and services in a network. STDA, which extends the features of the StreetTalk service, is optimized for retrieving names. STDA sorts the names in a copy of the StreetTalk database so that they can be retrieved quickly.

See Chapter 8 for more information on STDA services, which you must create and configure.
When you choose this search option, the system displays a screen on which you can type a pattern for StreetTalk to match in its search for names.

You use an asterisk (*) in the search pattern as a wildcard character. The asterisk tells the system to search for and display names that have any number of characters in the same position as the asterisk, including no characters.

The asterisk in StreetTalk works as it does in DOS file names. However, with StreetTalk you can put more than one asterisk in the search pattern. When the system replaces an asterisk with characters, it ignores the difference between upper-case and lower-case letters.
Example Searching for a Pattern
If you type the following pattern:
*@Sales@WCTUS
the system searches for and displays all items in the group Sales@WCTUS.

In this pattern:
BE*@Sales@*
the system searches for and displays all items that begin with the letters BE, in any group called SALES, in all organizations on the network.
Lists are items that contain the StreetTalk names of other items. Lists let you use one StreetTalk item, the list itself, to refer to many items - the names contained in the list. You can use lists to:
| | |
| --- | --- |
| | Distribute mail |
| | Designate administrators (AdminLists) |
| | Assign access rights lists for print services, information stored on a file volume, or connections to host computers |
Chapter 9 has more information on access rights lists. For now, note that when you add a user to a list, the user acquires the same access privileges and memberships of other users on that list. For example, if you create a list that has all access rights to a file volume, any name you add to that list also has all its rights.

If you have a large organization and security is a concern, you might want to limit the use of lists within your organization.
Names of Lists
Like all items on the network, lists have a StreetTalk name of their own. Every time you use the list, all the items in it are included in the operation.

If you frequently send mail to several users in different groups, you can include their full names in a list and send mail to the list.
For example, suppose you belong to the group Sales@WCTUS. You often send identical mail messages to Patricia Jones@Sales@WCTES, Richard Moulan@Ventes@WCTCA, and Klaus Schmidt@Verkauf@WCTDE. You can create this list:

MailList1@Sales@WCTUS
and include their complete StreetTalk names in it. Each time you send mail to that list, all three of them receive it.

A list can also be an entry in the extended list of an access right that is set on a file or directory. Chapter 9 describes access rights.

If you use a list often, you can give it a nickname to avoid typing the full list name.

Note that only administrators can add or modify StreetTalk lists.

You should avoid using wildcards with lists and creating lists within lists (nesting lists). Wildcards and nesting can impair the performance of StreetTalk because of the added time required to convert the list names and wildcards to StreetTalk names.
In a Banyan network, you become an administrator when your StreetTalk name is added to an AdminList. An AdminList is a list of names stored in VINES on a specific server. It identifies those users who have administrative privileges.

An administrator's name appears in the item (first position) of a unique StreetTalk name. It can be up to 31 characters long.

VINES provides two types of AdminLists: group administrator lists and server administrator lists.

Group administrators appear on the AdminList of a specific group. They can manage all of the resources in that group, including users, lists (names of resources), nicknames (aliases of other names), and services. Group administrators can also create new groups. For most day-to-day tasks, group administrator privileges are all that you need.

By default, every StreetTalk group has an AdminList that identifies administrators of the group. When a new group is created, the AdminList must be adjusted.

Server administrators appear on the AdminList of a particular server. Server administrators can add services to the server that they manage and add organizations to the network. When you create a service (for example, a file or print service), you give it a StreetTalk name that includes a group name and select a server that will maintain its data.

By default, every server has an AdminList@servername@Servers, a list that identifies administrators of the servername@Servers group and the server identified by servername.

When a server is installed, a person who will have full system administrator privileges on the system must be identified. The privileges are necessary to set up other administrators, resources, and users.

An administrator can appear on any combination of AdminLists and receives all the group and server management privileges associated with membership on each list. Note that no super-user or other global administrator can override the contents of AdminLists. The user whose name appears on all server AdminLists can act as the network administrator.
Example Group and Server Administrators
The WCT corporation has group administrators, server administrators, and administrators who serve in both capacities. The MIS department is responsible for maintaining servers and managing groups. Members of the MIS department are both group and server administrators. Figure 3-6 shows the Marketing Research and Finance groups, the servers that they access, and their administrators. Table 3-2 shows examples of WCT AdminLists and their associated privileges.
Figure 3-6. Group and Server AdminLists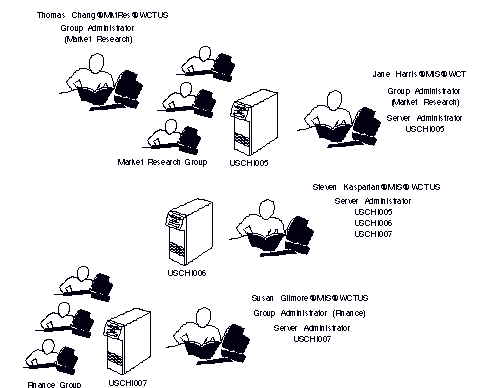 The following group and server AdminLists were created:
Table 3-2. WCT AdminLists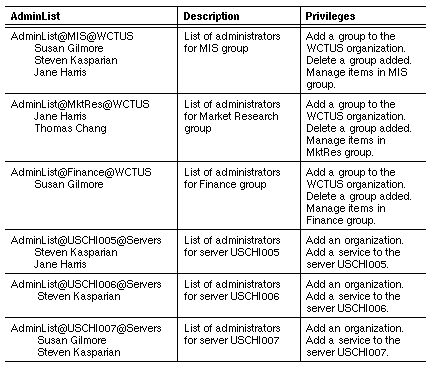 Susan Gilmore is a group administrator and a server administrator. She can add a new service to the Finance group because she is on the group AdminList of the Finance group and is on the Adminlist of the server USCHI005.

Steven Kasparian is on all the server AdminLists. His name was on list created when the first server was started up. He can act as a network administrator and add servers. He cannot add services to the Finance or Marketing Research groups. He cannot delete an organization unless he belongs to every group in the network.

Jane Harris is a server administrator and group administrator. She can add services to the MktRes group.

Services added to a group should be added to the server that maintains information about the group. A file service added to the Finance group should reside on the server USCHI006, on which information about the Finance group is maintained. You should not add a file or print service to the servername@Servers group. See Chapter 7 for more information.

Managing Users and StreetTalk provides more information on the AdminLists that you must be on to manage groups and organizations.
AdminList Guidelines
Consider following these guidelines when you name administrators:
| | |
| --- | --- |
| | Limit the number of names on AdminLists. The more names you add to AdminLists, the less secure your network is. |
| | Be careful how you use lists. Do not create lists that attempt to serve more than one purpose. For example, if you create a list for mailing, do not use that same list to assign access rights to a file volume. Users whom you want only to receive mail may inadvertently be given rights to files and directories. |
| | AdminLists that include users on remote servers (for example, servers across X.25 or WAN lines) can degrade network performance because the system is required to validate those names. Do not put the names of users who are located across WAN links on AdminLists. |
| | Always record the names of all administrators. |
| | In addition to the names of real users, consider creating a fictitious administrator for use in case of an emergency. For example, every server could have the user Backup Admin@Servername@Servers. This user must have a blank user profile and must be password protected. (A blank profile helps prevent a login from getting hung up.) Profiles are explained in Chapter 6. |
| | An AdminList must have at least one name, but that name should not be a name that is stored on another server. If the other server is removed from the network or stops, the administrator of your group on your server disappears. |
AdminList Planning Worksheet
You can use the AdminList Planning Worksheet in Figure 3-7 to record the names of administrators and the servers and groups that they will administer. In this example, each group has its own server, and the server administrators belong to the MIS department of WCTUS.

A copy of the worksheet is in Appendix A . Read Managing Users and StreetTalk before you fill out the worksheet.

You will need this information when the first server is started. See Chapter 4 for more information.
Figure 3-7. AdminList Planning Worksheet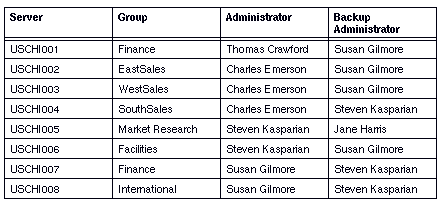 An attribute is a property of a StreetTalk resource or object. You can add, delete, modify, and display attributes.
Note: When you manage the attributes of a StreetTalk resource, the resource is referred to as an object. For example, John Blake@Admin@WCTAR is a StreetTalk object.
Attributes are like variables in a programming language. They have a name and type and can be read or written to. Each StreetTalk object can have its own set of attributes. The following table lists some examples of possible attributes for three classes of StreetTalk objects:

Users can run STDA programs to look up information about an object or search for an object based on the value of an attribute.

In addition, attributes can be used to manage the StreetTalk Naming service, STDA, and the Intelligent Messaging mail service. Managing Users and StreetTalk describes administrative attributes.
Default Attributes
All StreetTalk objects have default attributes that do not have values assigned to them. For example, default attributes for users are labeled:
| | |
| --- | --- |
| | Country |
| | Mail stop |
| | Project |
| | Language (English, German, French, and so on) |
Services and groups also have attributes because they are StreetTalk objects.
Labels
Users or administrators who run StreetTalk programs (for example, MUSER) or STDA can display the attributes according to the attribute's label. For example, STDA shows that under the label "country" the StreetTalk object "John Blake@Admin@WCTAR" has the attribute Argentina.

In addition to having individual labels, attributes are grouped into logical collections, each of which has its own label. For example, "Mailing address" is a label for this logical collection of attribute labels:
| | |
| --- | --- |
| | Country |
| | Mail stop |
| | P.O. box |
| | Postal code |
| | State/Province |
| | Street address |
| | Town/City |
Management and User Programs
You use the Banyan management programs (for example, StreetTalk Explorer, MATTR, MUSER, or MGROUP) to assign values to default attributes or create new attributes. Only a group administrator or the owner of an attribute can manage an attribute. For example, users "own" their own attributes and can modify them.

The attribute labels are defined in Attribute View Definition (AVD) files (VINES.AVD and DEFAULT.AVD). AVD files are stored in the MESSAGES subdirectory on drive Z. If the labels do not suit your needs, you can use the MAVD utility to change them. MAVD converts an AVD file, which is in binary format, so that you can use a text editor to view and modify the labels. You then use MAVD to recompile the modified ASCII file to binary format. You must be an administrator with proper privileges to replace the default VINES.AVD file on drive Z.

Some attribute labels in an AVD file may apply only to users, and others may apply only to services or groups. To associate attribute labels with one or more classes of objects, labels have filters. For example, the logical collection of attributes under the Mailing address label can be made to apply only to StreetTalk users.

STDA can capture attribute information and make it available from its programs. For example, XSTD can display user phone numbers and scan through attribute information associated with an entry.

Managing Users and StreetTalk describes StreetTalk attributes, labels, and filters. Chapter 8 of this Planning Guide describes STDA.
Complete the tasks in this list to ensure that you have properly planned for using StreetTalk:
| | |
| --- | --- |
| | Assign names and nicknames to users. |
| | Select names for groups and organizations. |
| | Assign users to groups and groups to organizations. |
| | Locate groups on servers. |
| | Decide who will be on the group and server AdminLists. |
| | Read about STDA in Chapter 8. |
When you finish reading this chapter, you should be familiar with these terms:

AdminList - A StreetTalk list that identifies VINES users who have administrative privileges.

Attribute - A specific property of a StreetTalk resource (object). Attributes are configurable.

Attribute View Definition (AVD) files - AVD files contain attribute labels that you can modify with the MAVD program. VINES.AVD and DEFAULT.AVD are two AVD files stored in the MESSAGES subdirectory on drive Z.

Default group - The group name that StreetTalk supplies when a user enters only an item name.

Default organization - The organization name that StreetTalk supplies when a user enters only an item name and a group name.

Group administrator - A VINES user who can create StreetTalk groups and manage group resources. A group administrator is on a group AdminList.

Item - The first part of a StreetTalk name. It identifies a particular user, nickname, service, or list.

MAVD - A program that converts an AVD file from binary to text format so that the attribute labels in the file can be viewed and modified.

MATTR - The VINES command that lets you manage StreetTalk attributes.

Nickname - An alternative version of a StreetTalk name.

StreetTalk - The distributed global directory naming service in VINES. It associates names with network users and resources.

Server administrator - A VINES user who can manage services on a server and add new servers and organizations. A server administrator is on a server AdminList.