Managing VINES Services
Chapter 1 - Overview of Managing Services
Introduction to Managing Services
This chapter describes the requirements and guidelines that are common to managing VINES services. VINES services are programs that run on a VINES server and perform functions required by network users. They identify, manage, and coordinate all the physical and logical components of the network.

Some services have two parts:
| | |
| --- | --- |
| | Service software that runs on the server |
| | Client software that runs on the workstation or server |
For example, to use a print service, users run the client program on their workstations. As shown in Figure 1-1, the client software communicates with the service software to let users print documents on printers connected to the network.
Figure 1-1. Client and Service Software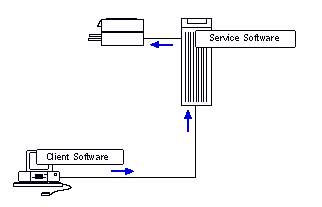 VINES services belong to one of the following categories:
| | |
| --- | --- |
| | Resource sharing |
| | Special services |
| | Utility sharing |
| | Optional |
Resource sharing services let users share printers and server disks. Special services are included with base VINES software and can be stopped, started, and reconfigured at any time.

Utility services manage other services, provide security, or coordinate system time. These services start automatically and require no management.

Optional services are not part of the base VINES software. Other services are part of the base system software, such as file and print services. Optional services must be purchased separately.

If a service is not provided with the server when it arrives at your site, you can install optional software at the server console. You may also have to add hardware to the server. For additional information on options, see the documentation shipped with the option.

This book discusses only the following optional services:
| | |
| --- | --- |
| | PCPrint service (Network Printing option) |
| | LexLink Bridge service (Network Printing option) |
| | AppleTalk Filing Protocol (AFP) Service (VINES Option for Macintosh) |
The following tables describe different types of VINES services and tell you where you can find additional information on these services.
Table 1-1. VINES Resource Sharing Services

Table 1-2. VINES Special Services

Table 1-3. VINES Utility Services

Table 1-4. VINES Optional Services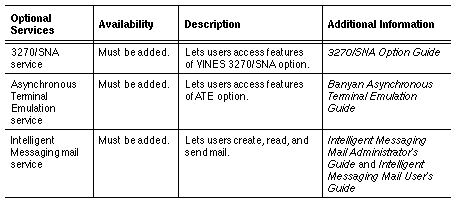 Where appropriate, sections in this chapter refer you to other chapters and books that explain specific services in more detail.
MSERVICE and OPERATE are VINES client programs that let you manage VINES services. Figure 1-2 summarizes what these programs let you do.
Figure 1-2. MSERVICE and OPERATE Programs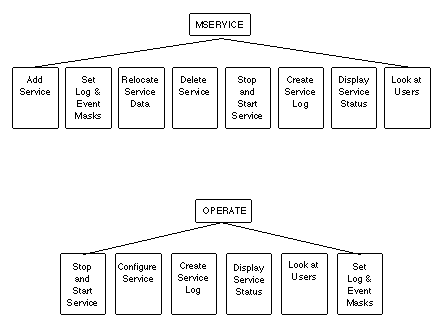 You can also stop, start, and display the status of services from the server console.

The StreetTalk Directory Assistance (STDA) service also helps you to manage services by letting you search for the names of services in the network. For example, you can use STDA to display the names of all the file services on the network.
Only a VINES administrator can manage services. Table 1-5 lists the AdminLists of which you must be a member to manage services. In the table, exact-group@org is the specific group that contains the service you want to manage, delete, or move data into from another service. Servername in Servername@Servers is the name of the server on which the service resides.
Table 1-5. AdminList Requirements to Manage Services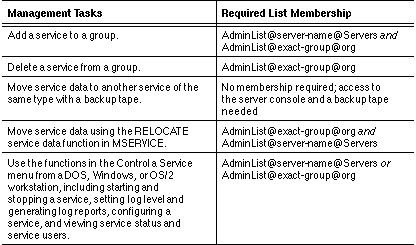 This section provides guidelines on where to locate services and information on disk space used by VINES services. In addition, it provides information you will need when adding services.
In general, you should locate services on servers near users who will use them. The closer the client and server software are to each other on the network, the faster users can access files and other network resources.

Macintosh

In particular, when a Macintosh user logs in and attempts to access a network resource (for example, a file service), the system looks for the user:
1. In the default zone

2. In the local zone

3. Over the network
If the service the Macintosh user requires is located over the network rather than on a neighboring server, service response is slower.
Swap Space and Macintosh Services
Additional swap space is required to use the AppleTalk Filing Protocol (AFP) service. Each Macintosh workstation that uses this service requires additional memory per process, which translates to additional swap space. For any additional information, refer to the Release Notice accompanying your VINES software.

When your server is operating with the planned number of users, use the Configure Swap Space function at your server console to monitor swap space.

Increase memory and swap space as necessary to accommodate larger VINES services. For additional information about swap space and configuring server memory, see Monitoring and Optimizing Servers.
Example Additional Swap Space
Each Macintosh user accessing a VINES service requires an average of 2K of additional memory per process when using the AFP service. If four Macintosh workstations access a server with an AFP service, the server needs 8K additional process memory.
Information Required to Add Services
When adding a VINES service, you must supply the following information:

StreetTalk Group - You must add a service to a specific StreetTalk group. It is recommended that you add the service to a group that resides on the same server as the service. If the services and their groups are on different servers, the chance that a service will become inoperative if a link goes down between the two servers increases.

StreetTalk Name - After deciding on the group, assign a StreetTalk item name to every service you add to the network. The name is the first item the system prompts you for when adding a service.

A service name has a maximum of 31 characters and can include letters, numbers, spaces, and punctuation. If a service name contains spaces, you must enclose the entire name in double quotation marks when using it with VINES commands. See Appendix E for international characters and Managing Users and StreetTalk for spelling rules and reserved characters.

Try to create service names that provide information about the new service. You can make the service name easy to recognize by beginning names of all similar services with the same combination of letters. For example, you might use FS for file service. The service name might also indicate the nature of the service. For example, "License Agreements" could be the name of a file service that contains files or documents pertaining to license agreements.

Service Description - The description of a service shows information about the service. This field does not affect the service name or how the service works. When you select a service to manage, VINES displays its description. A service description can be up to 63 characters.

Server - When you add a service, you must specify the server on which it will reside.

Type of Service - After you choose a server, the system lists the types of services available on the server. This list depends on the options installed on the server. You must specify a service type for every service you add through MSERVICE.

Note: When you use MSERVICE to add a new service, the Select Type of Service menu may list some invalid service types, such as Banyan AppleTalk Agent Service, Banyan Configuration Service, and Banyan WAN Service. If you select one of these services, you receive error message SER5028, Maximum number of services of this type created. or SER5014, Unauthorized or incorrect request.

Disk - For file, print, asynchronous terminal emulation, STDA, and mail services, you must specify file system on a physical disk that the service uses to store information. For example, print services use a disk to queue print jobs. Mail services use a disk to store mail messages. In selecting a disk, consider how much disk space the service requires and users' files will require.

Configuration Information - When you add print, 3270/SNA, and asynchronous terminal emulation services, you must supply configuration information. See Chapter 8 for more information on configuring print services. See the VINES 3270/SNA Option Guide and the Banyan Asynchronous Terminal Emulation Guide for more information on configuring these options.

Access Rights - You can manage all services from a DOS, Windows, or OS/2 workstation. You can manage file service access rights from DOS, Macintosh, Windows, and OS/2 workstations. You can move the contents of a file service to another file service if you have the access rights shown in Table 1-6.
Table 1-6. Access Rights Required to Move a File Service

Table 1-7 lists approximate memory usage for system software and various VINES base and optional services. However, keep in mind that memory usage for any given service depends on the number of services and users, and the load average on the server.

More detailed information on memory usage in a particular environment can be found by using MNET. In particular, the size of each service can be obtained in the Service Statistics screen and the total memory usage of the server can be found on the OS Information screen. Refer to Chapter 3 in Monitoring and Optimizing Servers for more details on how to best use this information.

Table 1-7 lists the memory requirements for VINES 7.00 services.
Table 1-7. Approximate Memory Usage for VINES Base and Optional Services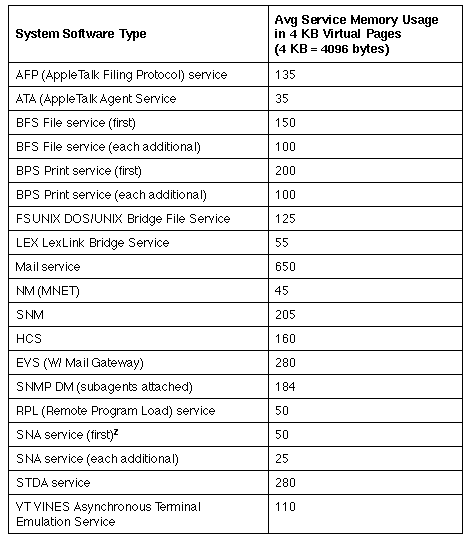 To move the contents of a file service, use either the VINES VCOPY or DOS COPY command. The command that you use depends on the types of workstations in your network and the types of files that you are copying.

Use DOS COPY when you work only with DOS and Windows workstations and the file types that they support. Use VCOPY when you work with OS/2 and Macintosh workstations and the file types they support. You also use VCOPY when you work with a mixture of DOS, Windows, OS/2, and Macintosh workstations. The rules for using the COPY and VCOPY commands are summarized below:
Table 1-8. Rules for COPY and VCOPY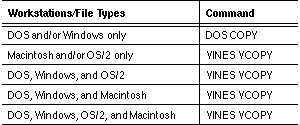 VCOPY copies the OS/2 Extended Attributes associated with a file as well as the Macintosh desktop database, resource and data forks. The DOS COPY command copies only the data fork of a Macintosh file.

The resource fork of a Macintosh file contains the File Creator and File Type. The desktop database of a Macintosh file contains the document icon and the application mapping that enables a Macintosh user to simultaneously open a file and launch the appropriate application. The desktop database also contains comments associated with the application in which the file was created. Without the resource fork and desktop database, the file is useless.

For more information on using the VCOPY command, see "Using the VCOPY Command" in Chapter 5.