VINES User's Guide for Macintosh
Chapter 1 - Overview of VINES Network Concepts
The Banyan VIrtual Networking System, known as VINES, provides a powerful network and resource management system. It links Macintosh, DOS, and OS/2 workstations together so that you can share resources with many other people.

VINES Option for Macintosh lets you use your Macintosh workstation on a VINES network to:
| | |
| --- | --- |
| | Share applications and files with other users |
| | Share printers |
| | Communicate with other users |
A VINES network can consist of many hardware and software components. The main components are explained in the next section.
Main Components of a VINES Network
At the heart of every VINES network is a server. A server is a computer that manages network resources. Network resources include file and print services, local and wide area network connections to other users and networks, and other communication options. VINES networks have anywhere from one to hundreds of servers connected together.

A VINES server supports and manages these key features:
| | |
| --- | --- |
| | Local Area Network (LAN) and Wide Area Network (WAN) connections |
| | Network file and print services |
| | Communications options |
| | Hardware resources |
| | The StreetTalk global naming system |
The rest of this section describes how a VINES network supports these features.
Local and Wide Area Network Connections
A VINES server supports connections to Local Area Networks (LANs). LANs are a convenient and efficient way of connecting groups of Macintosh, DOS, and OS/2 workstations, and printers to a server. LANs also are used to connect two or more servers. Many different types of LANs can be used in a VINES network.

A VINES server also supports connections to Wide Area Networks (WANS). WANS are networks that connect a server to a distant host computer, workstation, or other server, or that connects numerous computers in distant locations.
Figure 1-1. A Simple VINES Network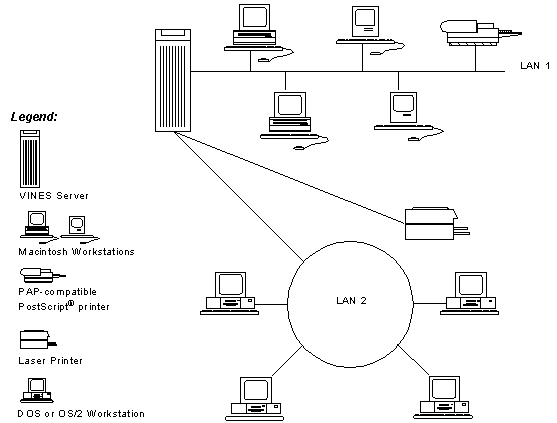 Figure 1-1 shows the structure of a simple VINES network. It shows two LANs connected to the same server. LAN 1 is an Ethernet LAN consisting of four Macintosh workstations and a LaserWriter printer. The LaserWriter is connected through a LocalTalk -to-Ethernet adapter.

LAN 2 consists of four DOS workstations connected through a Token-Ring LAN, with a laser printer for the LAN connected directly to the server. Whether you use a Macintosh, DOS, or OS/2 workstation, a VINES network lets you store and access files on the same VINES server.

VINES networks vary in size and complexity, according to the needs of the people who use them.
Figure 1-2. An Expanded VINES Network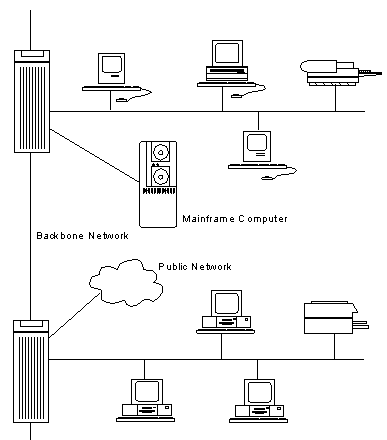 Figure 1-2 shows an example of an expanded VINES network. This example highlights two interconnected servers, each one supporting a mix of services.

Going from top to bottom:
| | |
| --- | --- |
| | The first server supports a group of Macintoshes on an Ethernet LAN as well as a connection to a host computer. The LaserWriter is connected through a LocalTalk-to-Ethernet adapter. |
| | The second server supports a group of DOS workstations as well as a connection to a public data network. |
Note that the two servers are part of a backbone network. In large networks, servers are connected to each other to provide services to workstations connected to different servers. In Figure 1-2, a Macintosh workstation can access the public network because its server is connected to the server providing that service.

At your site, there may be any number of VINES servers interconnected to form your network system and any number of LANs connecting workstations to the servers. Your network may have a simple structure like the network shown in Figure 1-1, or an expanded structure like the one in Figure 1-2.
Network File and Print Services
Every VINES server runs network services that support different workstations and other network resources. VINES services make it possible for you to share applications and files, share printers, and communicate with other users on the network.

For example, file services support file volumes that appear on your desktop as icons that you access in a normal fashion, as you do your local fixed disk. If your application allows it, you can share and access files created by DOS or OS/2 users that are stored on the same file volume.

Print services let you spool print jobs to network printers, reducing the time your Macintosh is tied up with printing.
A VINES server supports a wide range of communications options. Communications options include connections to host computers, such as mainframes and mini-computers, and connections to public data networks. For example, VINES Network Mail for Macintosh lets you exchange mail with other Macintosh and PC users on your network, and on other networks.
The StreetTalk naming system is the global naming system that identifies the name, location and attributes of every item on the network, including:
| | |
| --- | --- |
| | Users |
| | File volumes |
| | Printers |
| | Mail gateways |
| | Other network services and resources |
StreetTalk lets you see network resources as virtual extensions of your Macintosh workstation. Even though these resources may exist on different servers on different local area networks, you can easily access these resources through the Chooser and through VINES applications.
Using Your Macintosh with VINES
Using your Macintosh on a VINES network is no different than on an Ethernet or LocalTalk network running AppleShare software. In addition to working with local disks, you can also work with network file volumes, which appear as icons on the desktop much like disk icons. With a VINES network, you can access AppleShare file volumes in addition to VINES file volumes.

Note: If you are not familiar with the basics of using a Macintosh workstation, refer to the Macintosh Reference for information. It describes the basics, as well as using the Chooser and system software, creating folders, and opening applications.

The rest of this section provides a brief overview of using your Macintosh workstation on a VINES network.
The Chooser is a desk accessory that is included with your system software. You use the Chooser to log on to VINES servers, as well as select file volumes and network printers. For detailed information on using the Chooser, refer to the Macintosh Reference.

Using the Chooser to log on to VINES file volumes is described in Chapter 2. Using the Chooser to select network printers is described in "Selecting a VINES Print Service" in Chapter 7.

You also use the Chooser to log in to the network to use VINES-specific applications such as VINES Mail for Macintosh and VINES Utilities. This is described in Chapter 5.
Sharing Files and Applications
VINES file services let you share files you create with other users on the network, whether they use Macintosh workstations or workstations running the DOS or OS/2 operating system. If you exchange files with DOS or OS/2 users, keep in mind that the particular application you use dictates the degree you can open files created by them.

For a thorough discussion of sharing files and applications, go to Chapter 4.
A VINES network provides security for users through:
| | |
| --- | --- |
| | User names |
| | Passwords |
| | Access rights |
The system of access rights lets you grant or restrict access to your personal information. Though the system administrator is responsible for implementing file and resource security on the network, you can define security for the folders and files you create.

Network security is discussed in Chapter 4 and in Chapter 6.
Your system administrator is responsible for setting up and managing the network. He or she is familiar with the organization and operation of your company, and understands how to group people and resources together efficiently.

The system administrator installs the services you use, customizes certain applications to meet your needs, and implements security features.

If you need assistance while using the network, ask your system administrator. You should always try first, however, to find the answer in this user' s guide and from available on-line help.

Turn to the next chapter to find out how to start using your Macintosh workstation on a VINES network.